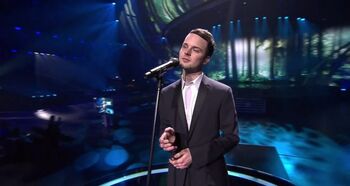 Stand-ins are young musicians and high school students from the host city of a particular year's contest. Their job is to perform the entries as intended, not only to assist the technical team in regards to lighting, camera angles and visuals, but also to act as a guide for the participants prior to arriving for their first rehearsals.
After the stage assembly is completed, a series of technical rehearsals are conducted in the venue using the staging plans submitted by the participant countries (choreography, visuals, props, etc.). In order to make sure things are working as per the specifications of each delegation, the production team makes use of the stand-in to perform the entry in the place of the actual artist. The recordings are then sent to each country for review, which in turn can submit back requests for changes if they are needed. This allows each of the delegations to promptly start their own rehearsals without the need to wait on directions and technical issues as everything they need will already be programmed for them.
If an artist runs into some problems during the main rehearsal period such as illness, a stand-in from the initial technical rehearsals can be called at a moment's notice to take their place, especially if they know the act well.
Stand-ins usually participate in the rehearsals for multiple countries in the capacity of a lead or backing singer, a dancer or a musician.
Some past stand-ins have gone on to take part in the Eurovision process over the years, such as participating in the national selections for their country or even becoming backing singers for other countries' artists in the contest itself.
Videos