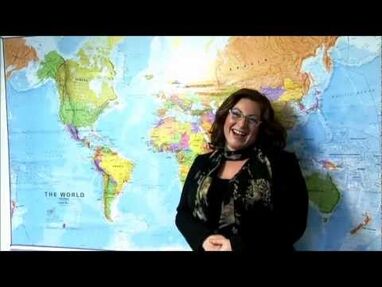 Lynda Woodruff is a fictional character portrayed by Swedish actress and singer Sarah Dawn Finer, who participated at Melodifestivalen in 2009 and co-hosted the event in 2012 and 2019.
Woodruff is supposed to be an English official spokesperson for the EBU, occasionally mispronouncing names and other various words (especially "Azerbaijan"), participating in strange activities, getting confused/lost, obsessing over Zlatan Ibrahimovic and driving in her car.  One of her favorite expressions is "Amazing!".
Woodruff presented the Swedish votes in 2012 as part of a gag by SVT, the Swedish broadcaster. As soon as she came up on the screen, the audience recognized her and started roaring with laughter. This made her an instant fan favorite.
With Sweden having won in 2012 with the song Euphoria, she was featured in three sketch shows in both the semi-finals and the grand final of 2013, which were supposedly placed in to fill the advert breaks of broadcasters such as the BBC that don't show advertisements during the show. Preceding the final sketch, the host Petra Mede said:
"Lynda Woodruff has tried -- and I emphasise tried -- to show you the wonders of Sweden."
Woodruff returned to participate in the 2016 contest in Stockholm. She appeared in a BBC sketch in the first semifinal with UK representatives Joe & Jake, and was also featured in a sketch during the grand final.
Her "official" address is lynda.spokesperson@ebu.woodruff.eurovision/questionaire/fanscometogether.co.uk, which of course is an invalid address since there are slashes in the domain part of the email address.
Videos