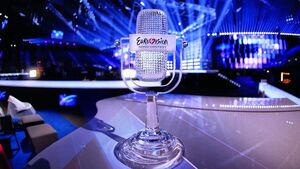 The Grand Prix is the highest accolade of the Eurovision Song Contest, it is given annually to the winner of that year's contest along with the opportunity to host the following year's contest.  In the past, it has been presented to the winning composers, but nowadays it is presented to the winning artist.
The design of the Grand Prix has changed over the years: in the early days of the contest it was given out as a medallion, while other times the trophy reflects the spirit of that year's competition and/or host nation.  Since 2008, the trophy is a glass microphone with the logo of the contest featuring the host country's flag in the distinctive center heart.
Traditionally, the trophy is handed over by the previous year's winner, but most often when that person isn't available it is presented by a representative of the EBU or the host broadcaster.
Presenters of the Grand Prix
Community content is available under
CC-BY-SA
unless otherwise noted.