Style is key to an effective article. 
Layout

Having a consistent layout makes it easy for readers to find information. Clicking the buttons shown in the image sets up the page for you.
Media
Media such as photos and videos can be used to split text up and showcase performances and special pictures.
Video
Videos are used to show special features, performances and official videos of the songs.
Ideally, the videos used should be from the official Eurovision Song Contest YouTube channel, as they are normally of high quality. On a song page, the videos should be underneath the Navbox (and any references).
Videos are normally sized 300px and the live version of the song is on the right, while the official video is on the left.
Gallery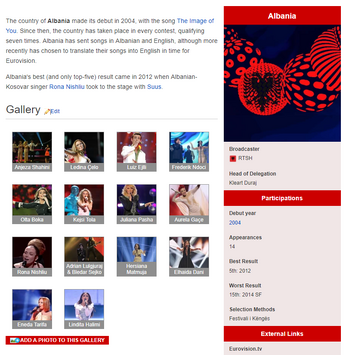 Galleries can break up parts of a text and display numerous images about one topic.
Galleries of live performance stills are found on contest and country pages, and are typically sized 100px. Captions are always inside the image, coloured white against a grey background. They should be used sparingly.
Templates
Colours
Colours shouldn't be garish and should be easy to read the text. Colour Contrast Analyser is a tool which allows you to check text on background colours with pass/fail checks. It also allows you to see what text looks like for people that are colour blind.
Colours should be used minimally.
| Colour | Hex code | RGB values | Purpose |
| --- | --- | --- | --- |
| | #ffd700 | 255,215,0 | To highlight the winner in a table |
| | #c0c0c0 | 192,192.192 | To highlight the second-place in a table |
| | #ffc0cb | 255,192,203 | To highlight the last-place in a table |
| | #ff8c8c | 255,140,140 | To highlight a nul points entry in a table |
| | #c8ff91 | 200,255,145 | To highlight means of auto-qualification (with semi-finals) in a table |
| | #40e0d0 | 64,224,208 | To highlight the jury qualifier in the 2008 and 2009 contests. |
Community content is available under
CC-BY-SA
unless otherwise noted.