The Eurovision Song Contest 2012 was the 57th annual contest of the Eurovision Song Contest. It was hosted in Baku Crystal Hall, Baku, Azerbaijan, after Ell and Nikki won for Azerbaijan in 2011 with Running Scared. The two semi-finals were hosted on the 22nd and 24 May 2012 and the final on 26 May 2012.
The contest was won by Loreen from Sweden with the song Euphoria which was written by Thomas G:son and Peter Boström. Euphoria earned a total of 372 points, placing it in the top spot. Russia finished in second place, with Serbia finishing in third. They were followed by the host country, Azerbaijan, which reached the 4th place. Albania achieved its first top 5 placing and finished 5th, which was their best result to date. Germany, Italy and Spain were the three members of the Big Five that managed to rank within the top 10, finishing in 8th, 9th and 10th places respectively.
Format
Presenters
Television presenter Leyla Aliyeva, 2011 winner Eldar Gasimov and Nargiz Birk-Petersen (also a television presenter) hosted the three shows.[1]
Theme
The theme for the 2012 Contest was "Light Your Fire!"[2]This matches Azerbaijan's nickname - "Land of Fire."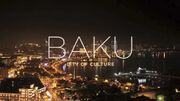 The Pre-Song Postcards reflected many aspects of Azerbaijan and Baku and acted as a tourism mechanism to present the country and the city to the world. Some postcards focused on Azerbaijan, while others focused on Baku with a shot of a famous landmark or landscape. The postcards then cut to a shot of the Crystal Hall lit up in the colours of the performing country.
Location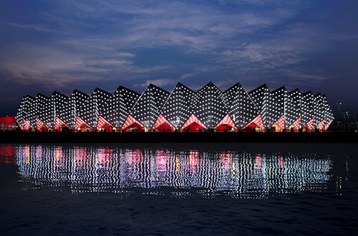 Baku is the capital and largest city of Azerbaijan, as well as the largest city on the Caspian Sea and of the Caucasus region. It is located on the southern shore of the Absheron Peninsula, which projects into the Caspian Sea. The city consists of two principal parts: the downtown and the old Inner City. Baku's urban population at the beginning of 2009 was estimated at just over two million people.
Participants
The semi-final allocation draw was held on 25 January 2012 at the Buta Palace. The insignia handover ceremony took place before the draw began, officially beginning the countdown to the contest.
The pots were as follows, calculated by the EBU's voting providers Digame and based on historical voting patterns[3]:
Armenia withdrew about a month and a half after the draw.
Returning Artists
Languages
Semi-Final One
Azerbaijan, 

Italy and 

Spain voted in this semi-final. The EBU allowed RTSH, the Albanian broadcaster to not broadcast this semi final due to a bus accident. This meant Albania used a full jury vote instead of the televote.
Semi-Final Two

France, the 

United Kingdom and 

Germany voted in this semi-final. Germany requested that the country vote in this semi final. Armenia was supposed to participate in this semi, but then withdrew for security reasons.
Final
Withdrawing
References
Community content is available under
CC-BY-SA
unless otherwise noted.