The Eurovision Song Contest 2011 was the 56th in the annual, long-running light entertainment show, and was won by Ell & Nikki performing Running Scared for Azerbaijan, making them the first male/female duo to win the title since 1963. The event took place in the Esprit Arena in Düsseldorf, Germany, following Germany's win in the previous year - with the winning artist, Lena Meyer-Landrut, returning in an attempt to defend her title. This made the 2011 contest the first since 2004 to take place outside of the host nation's capital city, as well as the first for Germany since its reunification.
The two semi-finals took place on 10 May and 12 May 2011, while the final took place on the evening of 14 May 2011. 43 countries participated in the contest, with those returning including Austria, which last participated in 2007; Hungary, which last competed in 2009; and San Marino, which last participated in 2008. Italy also returned to the Contest, marking its first participation since 1997 and turning the Big Four into the Big Five. No countries withdrew from the contest.
Format
Presenters
The hosts for the contest were announced on 16 December 2010. Actress and comedian Anke Engelke, journalist and presenter Judith Rakers, and musician Stefan Raab were to host the three shows.[1]
Theme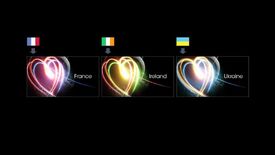 "Feel your heart beat!" was the slogan for the 2011 Contest. The logo was a pulsating heart in the colours of the performing country and was designed by London company Turquoise. It was based off a heart gesture made by Lena upon winning the 2010 Contest.[2]
Participants
The draw to determine the semi-final running orders was held on 17 January 2011. All of the participating countries excluding the automatic finalists were split into six pots, based on the voting history of those countries in previous years. From these pots, half competed in the first semi-final on 10 May 2011.
The other half in that particular pot competed in the second semi-final on 12 May 2011. This draw doubled as an approximate running order, in order for the delegations from the countries to know when their rehearsals commenced. The draw also determined in which of the semi-finals the automatic finalists would be able to cast their votes.
Pre-Allocations
Israeli broadcaster IBA requested to take part in the second semi-final due to the Israeli Memorial Day, which was held during the first semi-final. German broadcaster NDR also requested that it be allowed to vote in the second semi-final for scheduling reasons.
Semi Final One

Spain and the

United Kingdom voted in this semi-final.
Semi Final Two

Germany,

Italy and

France voted in this semi-final.
Grand Final
All countries voted in this show.
Withdrawing
Other Countries
References (if any)
Community content is available under
CC-BY-SA
unless otherwise noted.