The Eurovision Song Contest 2006 was the 51st edition held in Athens, Greece at the OAKA Olympic Arena and was presented by Greek-born American TV personality Maria Menounos and 2004 Eurovision participant Sakis Rouvas. The semi-final was held on 18 May 2006 and the final on 20 May 2006.
A new system was adopted this year regarding the presentation of each country's votes. Instead of having the individual spokesperson read out every point as done in the past, the scores from 1-7 were shown on screen first, followed by the spokesperson only reading out the top 3 scores of 8, 10 and 12 points. This new system helped shave approximately 40 minutes off the show's running time and has been used ever since.
The contest was won by Finland, considered to be the "underachievers" of Eurovision, with the song Hard Rock Hallelujah performed by the group Lordi. It is the first hard rock song to ever win the contest, winning both the semi and the final with the same amount of points. Finland waited a full 45 years for their first victory, eclipsing the previous mark of 31 years set by Greece the year before. That record has since been eclipsed by Portugal with their victory in 2017 ending a 53-year drought.
Format
Presenters
Television presenter Maria Menounos and two-time Eurovision entrant for Greece Sakis Rouvas hosted the contest.
Theme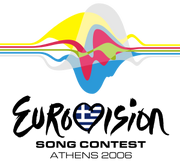 The logo of the 2006 Contest was created by the design company Karamela, and it was based on the Phaistos Disc - a symbol of ancient Greece. According to ERT, it was "inspired by the wind and the sea, the golden sunlight and the glow of the sand".
The Pre-Song Postcards showed places connected to Greece's history as well as its modern tourism hotspots. .
Incidents
Paul de Leeuw, the Dutch spokesperson, insisted on pretending to give Rouvas his phone number and announce points 1 to 7, which were already displayed to save time.
Constantinos Christoforou gave his votes from Cyprus whilst the graphic showed Switzerland was calling.
EBU imaging overrode Menounos during a voting interval segment.
Participants
37 countries participated, Armenia making its debut with Austria and Hungary withdrawing. Serbia and Montenegro also withdrew due to the country splitting up into two independent nations. Ireland's entry was the 1,000th song performed at the contest.
Semi-final
Draw
Country
Artist
Song
Language
Translation
Place
Points
01
Armenia
André
Without Your Love
English
--
6
150
02
Bulgaria
Mariana Popova
Let Me Cry
--
17
36
03
Slovenia
Anžej Dežan
Mr Nobody
--
16
49
04
Andorra
Jennifer Serrano
Sense tu
Catalan
Without you
23
8
05
Belarus
Polina Smolova
Mum
English
--
22
10
06
Albania
Luiz Ejlli
Zjarr e ftohtë
Albanian
Fire and cold
14
58
07
Belgium
Kate Ryan
Je t'adore
English, French
I adore you
12
69
08
Ireland
Brian Kennedy
Every Song Is a Cry for Love
English
--
9
79
09
Cyprus
Annet Artani
Why Angels Cry
--
15
57
10
Monaco
Séverine Ferrer
La Coco-Dance
French, Tahitian
The Coco-Dance
21
14
11
North Macedonia
Elena Risteska
Ninanajna
English, Macedonian
--
10
76
12
Poland
Ich Troje ft. Real McCoy
Follow My Heart
English, Polish, Spanish, German, Russian
--
11
70
13
Russia
Dima Bilan
Never Let You Go
English
--
3
217
14
Turkey
Sibel Tüzün
Süper Star
English, Turkish
Superstar
8
91
15
Ukraine
Tina Karol
Show Me Your Love
English
--
7
146
16
Finland
Lordi
Hard Rock Hallelujah
--
1
292
17
The Netherlands
Treble
Amambanda
English, Imaginary
20
22
18
Lithuania
LT United
We Are the Winners
English
--
5
163
19
Portugal
Nonstop
Coisas de nada (Gonna Make You Dance)
English, Portuguese
Meaningless things
19
26
20
Sweden
Carola Häggkvist
Invincible
English
--
4
214
21
Estonia
Sandra Oxenryd
Through My Window
--
18
28
22
Bosnia and Herzegovina
Hari Mata Hari
Lejla
Bosnian
Layla
2
267
23
Iceland
Silvia Night
Congratulations
English
--
13
62
Final
All countries voted including Serbia and Montenegro. The final took place on 20 May 2006. Lordi won for Finland with the song Hard Rock Hallelujah.
Trivia
After this edition was shown as part of Eurovision Again in mid-2020, the EBU came on board with their support for the project.
Hard Rock Hallelujah was the first semi-final winner to win the entire contest as well (Wild Dances came second in the 2004 semi-final, while My Number One was an auto-qualifier for 2005).
Community content is available under
CC-BY-SA
unless otherwise noted.