Emmelie Charlotte-Victoria de Forest is a Danish singer-songwriter. In 2013, she won the Eurovision Song Contest 2013 for her country, Denmark, with the song Only Teardrops.
About
De Forest was born in Randers, Denmark to a Danish mother and a Swedish father. After her parents divorced, she moved to Mariager with her mother. There was a rumor that her father, Ingvar, is a descendant of an illegitimate child of former British king Edward VII, making her the great-granddaughter of Queen Victoria. However, researchers consider it false.
Career
Early career
De Forest started singing at the age of 9, and for several years she performed with her mother in the Steve Cameron Gospel Choir.
From the age of 14, she performed at small venues and festivals with Scottish folk artist Fraser Neill. In 2010, they recorded an album together called "Emmelié de Forest and Fraser Neill". The following year, they stopped working together and De Forest moved to Copenhagen to study at the Complete Vocal Institute.
2013
De Forest's song, Only Teardrops, was one of ten songs chosen to compete in the Dansk Melodi Grand Prix in 2013 for a chance to represent Denmark in Eurovision 2013. The song won the national final, therefore winning the ticket to Sweden.
Her debut album of the same name, Only Teardrops was released a week before her semi-final appearance. It has got 12 tracks, and also includes two versions of her Eurovision song and a disc overture.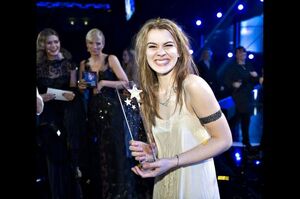 She won the first semi-final with 167 points, therefore her song being one of the ten songs qualified to the grand final. At the grand final, she became the winner with 281 points. She received the maximum score of 12 points from 7 countries; Austria, Croatia, Estonia, Ireland, The Netherlands, Sweden and the United Kingdom.
At the Junior Eurovision Song Contest 2013 in Kyiv, Ukraine, she performed her winning song and received the Arets Europæer Award (The European of the Year Award), by the Danish European Movement.
Emmelie wrote the official "#JoinUs" song Rainmaker for the 2014 contest in Copenhagen, and later wrote the 2017 United Kingdom entry Never Give Up On You for Lucie Jones.
Eurovision Song Contest 2013
Artists
Semi Final One:Natália Kelly • Birgit Õigemeel • Hannah Mancini • Klapa s Mora • Emmelie de Forest • Dina Garipova • Zlata Ognevich • Anouk • Who See • Andrius Pojavis • Alyona Lanskaya • Aliona Moon • Ryan Dolan • Despina Olympiou • Roberto Bellarosa • Moje 3

Semi Final Two: PeR • Valentina Monetta • Esma & Lozano • Farid Mammadov • Krista Siegfrids • Gianluca Bezzina • Elitsa & Stoyan • Eyþór Ingi Gunnlaugsson • Koza Mostra • Moran Mazor • Dorians • ByeAlex • Margaret Berger • Adrian Lulgjuraj & Bledar Sejko • Nodi & Sophie • Takasa • Cezar

Grand Final: Amandine Bourgeois • Cascada • Marco Mengoni • ESDM • Robin Stjernberg • Bonnie Tyler

Songs
Semi Final One: Shine • Et Uus Saaks Alguse • Straight Into Love • Mižerja • Only Teardrops • What If? • Gravity • Birds • Igranka • Something • Solayoh • O Mie • Only Love Survives • An me thimase • Love Kills • Ljubav Je Svuda

Semi Final Two: Here We Go! • Crisalide (Vola) • Pred da se razdeni • Hold Me • Marry Me • Tomorrow • Samo shampioni • Ég á líf • Alcohol is Free • Rak Bishvilo • Lonely Planet • Kedvesem • I Feed You My Love • Identitet • Waterfall • You and Me • It's My Life

Grand Final: L'Enfer et Moi • Glorious • L'Essenziale • Contigo Hasta el Final • You • Believe in Me