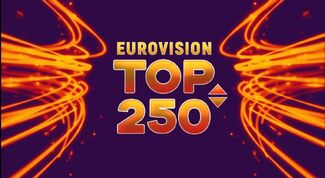 The
ESC Top 250
is an annual countdown of the top songs from Eurovision Song Contest.  It has been hosted by online radio channel ESC Radio every New Year's Eve since 2009.
Format
Fans around the world are invited to vote for their favorite songs from 1956 to the present via an independent site (as of 2019, the voting is hosted by Belgian fan site songfestival.be) for a period of time in early December.  Every year, the newest batch of songs from the most recent contest are added to the pool.  Fans vote in the traditional Eurovision style from 1-10 points, with their favorite song receiving 12 points.
At the end of the voting period, the votes are counted and the points combined.  The 250 songs that receive the highest points are presented on that year's Top 250.
Airing
The countdown begins New Year's Eve at 11:00am Central European Time (5:00am Eastern Standard Time) on ESC Radio with #250 and continues throughout the day.  The number 1 song is usually presented to coordinate with the approach of the New Year in most of Europe (around 00:00 CET).
Euphoria by Loreen (Sweden 2012) has occupied the top spot for 8 consecutive years (2012-2019).
Community content is available under
CC-BY-SA
unless otherwise noted.