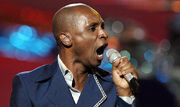 The "Curse of Number Two" is one of the most famous phenomenons to occur at the Eurovision Song Contest. It is called that because no country that has performed out of the second spot in the running order of the final has ever won the contest at all. In fact, those performing second over the years have ended up last nine times (three of those times with the ever-dreaded Nul Points).  This leaves many fans, media people, and artists to believe that this particular spot is "cursed".
Qualifying from the semifinals when performing out of the second spot in the running order is also a very rare occurrence, in 2014, for example, neither song performed second (Latvia in semi 1 and Israel in semi 2) advanced to the final, and both finished near the bottom of their respective semis.
1957 winner Corry Brokken was the first victim of this phenomenon when she performed second in the 1958 contest on home ground in Hilversum and finished last. The only times a second-spot performer has done well was second in 1965 and equal third in both 1997 and 2002.
The most recent victim of the Curse of Number Two is Sarah McTernan of Ireland, who finished last in semi-final 2 of Eurovision 2019
Community content is available under
CC-BY-SA
unless otherwise noted.