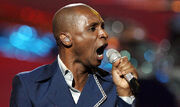 The "Curse of Number Two" is one of the most famous phenomenons to occur at the Eurovision Song Contest. It is called that because no country that has performed out of the second spot in the running order of the final has ever won the contest at all. In fact, those performing second over the years have ended up last nine times (three of those times with the ever-dreaded Nul Points). This leaves many fans, media people, and artists to believe that this particular spot is "cursed".
It is also interesting to note that the 16th position in the running order is similarly "cursed", no country has won performing from that position either.
Qualifying from the semifinals when performing out of the second spot in the running order is also a very rare occurrence. For example, in 2022, neither country which performed second in the semifinals (Latvia in semifinal 1 and Israel in semifinal 2) advanced to the final.
The 1957 winner Corry Brokken was the first victim of this phenomenon when she performed second in the 1958 contest on home ground in Hilversum and finished last. The only times a second-spot performer has done well was second in 1965 and equal third in both 1997 and 2002.
Victims of the Curse of Number Two
In the Grand Final
Year
Country
Artist
Song
Place
Points
1958
The Netherlands
Corry Brokken
Heel De Wereld
9
1
1960
Sweden
Siw Malmkvist
Alla andra får varann
10
4
1961
Monaco
Colette Deréal
Allons, allons les enfants
10
6
1962
Belgium
Fud Leclerc
Ton nom
13
0
1963
The Netherlands
Annie Palmen
Een speeldoos
13
0
1964
The Netherlands
Anneke Grönloh
Jij bent mijn leven
12
2
1966
Denmark
Ulla Pia

Stop - mens legen er go'

14
4
1968
The Netherlands
Ronnie Tober
Morgen
16
1
1969
Luxembourg

Romuald

Catherine
11
7
1971
Malta

Joe Grech

Marija l-Maltija
18
52
1973
Belgium

Nicole & Hugo

Baby, Baby
17
58
1978
Norway
Jahn Teigen
Mil Etter Mil
20
0
1979
Italy

Matia Bazar

Raggio di luna
15
27
1980
Türkiye

Ajda Pekkan

Petr'Oil
15
23
1981
Türkiye
Modern Folk Trio &

Ayşegül Aldinç

Dönme Dolap

18
9
1990
Greece

Christos Callow

&

Wave

Horis Skopo
19
11
1992
Belgium
Morgane
Nous, on veut des violons
20
11
1993
Türkiye

Burak Aydos

Esmer Yarim
21
10
1994
Finland

CatCat

Bye Bye Baby
22
11
1998
Greece
Thalassa

Mia krifi evesthisia

20
12
2001
Iceland

Two Tricky

Angel
23
3
2004
Austria
Tie Break

Du Bist

21
9
2005
United Kingdom
Javine
Touch My Fire
22
18
2006
Moldova
Arsenium ft. Connect-R & Natalia Gordienko
Loca
20
22
2007
Spain

D'NASH

I Love You Mi Vida
20
43
2008
United Kingdom
Andy Abraham
Even If
25
14
2012
Hungary
Compact Disco
Sound of Our Hearts
24
19
2013
Lithuania
Andrius Pojavis
Something
22
17
2015
France
Lisa Angell
N'oubliez pas
25
4
2016
Czech Republic
Gabriela Gunčíková
I Stand
25
41
2017
Poland
Kasia Moś
Flashlight
22
64
2018
Spain
Alfred & Amaia
Tu canción
23
61
2021
Albania
Anxhela Peristeri
Karma
21
57
2022
Romania
WRS
Llámame
18
65
In the Semi-Finals
Year
Semi-final no.
Country
Artist
Song
Place
Points
2004
N/A
Belarus

Aleksandra

and

Konstantin

My Galileo
19
10
2005
N/A
Lithuania

Laura

and

The Lovers

Little by little

25
17
2006
N/A
Bulgaria
Mariana Popova
Let Me Cry
17
36
2007
N/A
Israel
Teapacks
Push the Button
24
17
2009
SF1
Czech Republic
Gipsy.cz
Aven Romale
18
0
SF2
Ireland
Sinéad Mulvey & Black Daisy
Et Cetera
11
52
2011
SF1
Norway
Stella Mwangi
Haba Haba
17
30
2013
SF2
San Marino
Valentina Monetta
Crisalide (Vola)
11
47
2014
SF1
Latvia
Aarzemnieki
Cake to Bake
13
33
SF2
Israel
Mei Finegold
Same Heart
14
19
2015
SF2
Ireland
Molly Sterling
Playing With Numbers
12
35
2016
SF1
Greece
Argo
Utopian Land
16
44
2017
SF1
Georgia
Tamara Gachechiladze
Keep the Faith
11
99
2018
SF1
Iceland
Ari Ólafsson
Our Choice
19
5
SF2
Romania
The Humans
Goodbye
11
107
2019
SF1
Montenegro
D-Moll
Heaven
16
46
SF2
Ireland
Sarah McTernan
22
18
16
2021
SF1
Slovenia
Ana Soklič
Amen
13
44
SF2
Estonia
Uku Suviste
The Lucky One
13
58
2022
SF1
Latvia
Citi Zēni
Eat Your Salad
14
55
SF2
Israel
Michael Ben David
I.M
13
61