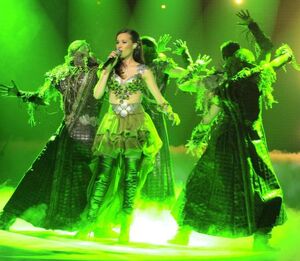 Similar to 
The Curse of Number Two
, the
Curse of Green
is another "curse" in the
Eurovision Song Contest
that involves the colour green being used on stage or worn by the performer.
Usually, but not in all situations, the performer fails to do well, doesn't qualify to the final or is the victim of the Barbara Dex Award of that year.
The Eurovision Song Contest 1968 was the first to be broadcast in colour, so any participants before that year are unknown to have worn green on the night of their performance or have green on the stage.
Katja Ebstein for Germany in 1970 is the first recorded person to have the Curse of Green, whereas Vilija Matačiūnaitė and Mariko Ebralidze are the most recent. Both failed to qualify to the 2014 final, but Vilija won the Barbara Dex Award whilst wearing green on her tutu, hence being a Curse of Green victim.