Conchita Wurst is the drag stage persona of Thomas Neuwirth, an Austrian singer. Wurst represented Austria and won the Eurovision Song Contest 2014 in Copenhagen, Denmark. Neuwirth describes himself as a gay man and uses female pronouns to describe his Wurst character, but male pronouns when referring to himself.
Life as Neuwirth
Neuwirth was raised in Bad Mitterndorf in Austria but was born in nearby Gmunden. From an early age, he realised he was "different" to the other children, and has faced discrimination for his homosexuality. "Being a teenager, a gay teenager, in such a small village is not that much fun. I am part of the gay community and most gays have a similar story to mine." Initially, Neuwirth thought that "something was wrong."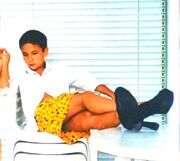 In 2006, Neuwirth reached the final of the Austrian casting show Starmania (where 2011 entrant Nadine Beiler won). The next year, he founded the boyband Jetzt Anders!, but the group disbanded during the same year.
He graduated from the Graz School of Fashion in 2011, where he moved to at age 14 to have an education focusing on fashion, and has lived in various locations in Vienna since then.
Life as Conchita
Neuwirth returned to television later in 2011 in drag as the character Conchita Wurst, a persona he created in response to earlier experiences, saying, "This is about an important message, it's a call for tolerance for everything that seems different."
While in German, Wurst means "sausage", the performer relates the choice of last name to the common German expression "Das ist mir doch alles Wurst", which translates as "it's all the same to me", and "I don't care", stating that the name emerged from the first meaning of the expression and added, "It doesn't really matter where one comes from, and what one looks like." In the same interview, the performer stated that the first name was from a Cuban friend.
The character, Conchita Wurst, has participated in the ORF production The Hardest Jobs of Austria, working in a fish processing plant, and in Wild Girls, in which a group of candidates had to survive in the deserts of Namibia together with native tribes.
Eurovision
Upon being selected for Eurovision 2014 by ORF, many fans criticised the choice without knowing that Wurst was in it to win it, such as hosting petitions to change the singer or edit out the performance. However, Wurst was welcomed by many Western countries. Upon winning the contest, she held the trophy aloft and declared "We are unity and we are unstoppable." This was confirmed as a message to politicians opposing LGBT rights.
She was the green room host at the Eurovision Song Contest 2015.
Retirement
In February 2017, Neuwirth confirmed that he will be retiring Conchita Wurst as a character later that year and living his life as himself.[1]
Eurovision Song Contest 2014
Artists
Semi Final One:Aram Mp3 • Aarzemnieki • Tanja • Sanna Nielsen • Pollapönk • Hersiana Matmuja • Tolmachevy Twins • Dilara Kazimova • Mariya Yaremchuk • Axel Hirsoux Cristina Scarlat • Valentina Monetta • Suzy • The Common Linnets • Sergej Ćetković • Kállay-Saunders

Semi Final Two: Firelight • Mei Finegold • Carl Espen • The Shin & Mariko • Donatan & Cleo • Conchita Wurst • Vilija Matačiūnaitė • Softengine • Can-linn ft. Kasey Smith • TEO • Tijana Dapčević • Sebalter • Freaky Fortune & RiskyKidd • Tinkara Kovač • Paula Seling & Ovi

Grand Final: Basim • Twin Twin • Elaiza • Emma Marrone • Ruth Lorenzo • Molly Smitten-Downes

Songs
Semi Final One: Not Alone • Cake to Bake • Amazing • Undo • No Prejudice • One Night's Anger • Shine • Start a Fire • Tick-Tock! • Mother Wild Soul • Maybe (Forse) • Quero ser tua • Calm After the Storm • Moj Svijet • Running

Semi Final Two: Coming Home • Same Heart • Silent Storm • Three Minutes to Earth • My Słowianie • Rise Like a Phoenix • Attention • Something Better • Heartbeat • Cheesecake • To The Sky • Hunter of Stars • Rise Up • Round and Round • Miracle

Grand Final: Cliché Love Song • Moustache • Is It Right? • La Mia Città • Dancing in the Rain • Children of the Universe
Trivia
Conchita is one of only two winners in the 2010s to come from an internal selection, the other being 2019 winner Duncan Laurence.
References
Community content is available under
CC-BY-SA
unless otherwise noted.