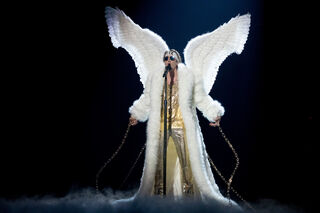 The Barbara Dex Award is an annual fan award given out to the artist with the most notable outfit of that year's Eurovision Song Contest. A notable outfit means one that attracts the attention of the public, in no case it wants to say that an outfit is ugly. Taste is personal, an outfit can be notable and liked by many people. The award was named after Barbara Dex, who competed for Belgium at the Eurovision Song Contest 1993 wearing a rather unflattering handmade dress.
Many of these were victims of the Curse of Green.
North Macedonia, Portugal and Serbia currently hold the record for the most Barbara Dex Awards won with 2 each.
House of Eurovision, the Dutch fan site that founded the award in 1997, announced after the 2016 contest that they would close their site [1]. Belgian fan site songfestival.be announced soon after that they would take over the handing out of the award from 2017 on [2].
Winners of the Barbara Dex Award
References