Attention was the Lithuanian entry at the Eurovision Song Contest 2014 in Copenhagen performed by Vilija Matačiūnaitė. It is a song in the EDM-pop mold.
Vilija adopted a futuristic look including a black and turquoise rubber outfit and a tutu with two holes on either side of her body, to allow her backing dancer more interaction.
It was performed seventh in the second semifinal following Austria and preceding Finland. At the close of voting, it finished in 11th place with 36 points.
Lyrics
Did you think that you can get me, boy? (no)
Think again, babe.
Thought you could buy me for a drink or two,
But I'm not that easy

You saw me chatting with my girls at bar (true)
We're all pretty
You told me I look like a movie star,
But I'm not naive

So… I'm gonna make you, make you fall,
down do-do-down down on your knees.
I'm gonna make you,
make you fall down to get all…

Attention, a little care
Then you can have a love love love love, some love
no no,
And you can have lots of love

Do you dream about me in your bed?
Keep on dreamin'
You thought I'd give it to you – all I have (wait)
Not the first night

You said that it might be the love at first sight (babe)
Hold your horses
You told me you're the best I'll ever have,
But I just don't believe

I'm not gonna ask you buy me diamonds,
no,
Just behave yourself, treat me very well,
give me some:

Attention, a little care
Then you can have a love love love love, some love
Attention, a little care,
And you can have lots of love
Eurovision Song Contest 2014
Artists
Semi Final One:Aram Mp3 • Aarzemnieki • Tanja • Sanna Nielsen • Pollapönk • Hersiana Matmuja • Tolmachevy Twins • Dilara Kazimova • Mariya Yaremchuk • Axel Hirsoux Cristina Scarlat • Valentina Monetta • Suzy • The Common Linnets • Sergej Ćetković • Kállay-Saunders

Semi Final Two: Firelight • Mei Finegold • Carl Espen • The Shin & Mariko • Donatan & Cleo • Conchita Wurst • Vilija Matačiūnaitė • Softengine • Can-linn ft. Kasey Smith • TEO • Tijana Dapčević • Sebalter • Freaky Fortune & RiskyKidd • Tinkara Kovač • Paula Seling & Ovi

Grand Final: Basim • Twin Twin • Elaiza • Emma Marrone • Ruth Lorenzo • Molly Smitten-Downes

Songs
Semi Final One: Not Alone • Cake to Bake • Amazing • Undo • No Prejudice • One Night's Anger • Shine • Start a Fire • Tick-Tock! • Mother Wild Soul • Maybe (Forse) • Quero ser tua • Calm After the Storm • Moj Svijet • Running

Semi Final Two: Coming Home • Same Heart • Silent Storm • Three Minutes to Earth • My Słowianie • Rise Like a Phoenix • Attention • Something Better • Heartbeat • Cheesecake • To The Sky • Hunter of Stars • Rise Up • Round and Round • Miracle

Grand Final: Cliché Love Song • Moustache • Is It Right? • La Mia Città • Dancing in the Rain • Children of the Universe
Videos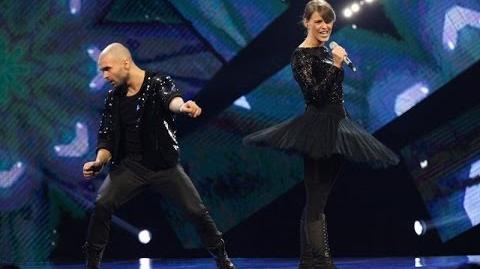 Community content is available under
CC-BY-SA
unless otherwise noted.